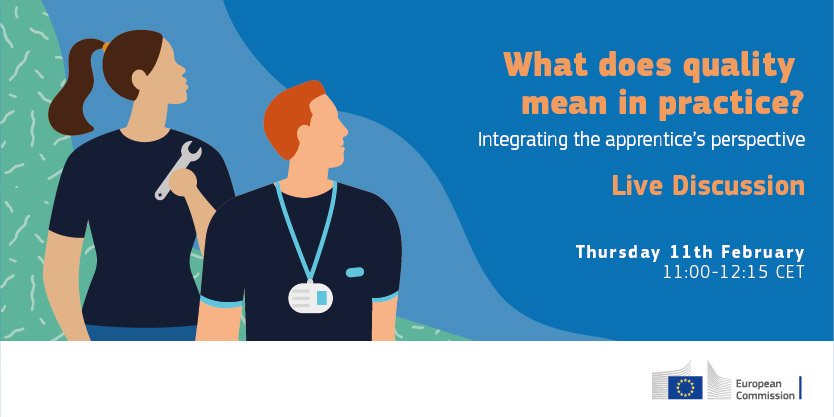 The European Alliance for Apprenticeships (EAfA) is organising the 7th Live Discussion on 'What does quality mean in practice? Integrating the apprentice's perspective".
Quality apprenticeship schemes are particularly effective in bringing young people from education and training into work. Apprenticeships provide the combination of technical, transversal, and soft skills that employers are looking for and, as efforts are being made to expand apprenticeship supply, it is vital to know what the criteria for success are. During the live discussion, we will explore how the concept of quality is perceived from the perspective of policy makers, VET providers and apprentices.
This 7th EAfA Live Discussion will be chaired by Tamas Varnai, Policy Officer for VET, Apprenticeships and adult learning at the European Commission, and moderated by the expert Maria Melstveit. The speakers will include representatives of apprentices, VET providers, large and small companies:
·         Juliana Laskowski, European Apprentices Network (EAN).
·         Tadej Gartner, School Centre Škofja Loka, Slovenia.
·         María Ángeles Ruiz Gámez, ESMOVIA, Spain.
·         Kara Keenaghan, ESB Networks, Ireland.
The discussion will take place on Thursday 11th February, from 11:00 until 12:15 CET. To participate, please register here. You will receive further information on how to join the meeting after the registration.